Preserving Our History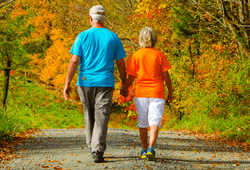 There is an old saying that you have to know where you come from in order to know where you're going. The Doy Leale McCall Rare Book and Manuscript Library, which is housed in the Marx Library on the main campus, provides a unique look into the past for students, faculty, researchers, and local residents.
Carroll and Vicki Barrett, both South Alabama alumni, have added a remarkable collection of family papers, books, and photography from the 16th through the 20th centuries to the archive. The Dellet-Torrey Collection adds unique new imprints from the past that will heighten the impact of the McCall Collection on the work of future scholars.
"My husband Carroll and I couldn't imagine a better way to preserve our families' history than to donate this collection to the University of South Alabama's Doy Leale McCall Rare Book and Manuscript Library," Vicki said.
The family collection has been passed through Carroll's family for over 200 years. It provides insight into what life was like in Alabama in the 1800s.
"The Dellet-Torrey Collection adds to the resources we can provide to our students and faculty," assistant librarian Deborah Gurt said. "Having something as rare as this entrusted to us is a validation of what we do, and it offers great opportunities to students and scholars."
Most of the collection was kept through the years at Dellet Park in Claiborne, AL, the home of James Preston Dellet. He was elected to the first State House of Representatives in 1819 and had the honor of being the first Speaker of the Alabama House of Representatives. He was also a U.S. Congressman from 1839-1841 and again from 1843-1845.
"The condition in which this collection was brought to us is remarkable," Gurt added. "James Dellet was a prominent figure in the early days of Alabama state politics, and his books and papers allow researchers a unique window on to the political climate of that period."
The collection also features material related to Alabama State Senator Rufus Campbell Torrey, Carroll's great-great grandfather. Torrey was a teacher, lawyer, and judge. He was elected a member of the convention called to revise the state constitution in 1875.
"We have tried to be careful custodians of our portion of this historical legacy," Vicki said. "It's been a great source of pride to have a family steeped in early Alabama history. We hope that this donation will allow interested students, faculty and citizens access to information about Alabama politics and life in the early and mid-1800s."